At a Glance


As a part of the hackathon organised by NEMIC, my team was in charge of coming up with a solution for people affected by social isolation due to the pandemic.

UPDATE


Due to patent development, content has been reduced for privacy purposes. Please feel free to reach out if you want to know more about the product!
Project Team


Allie Surdovel
Hyung Jin Lee
John Slate-Romano
Ashesh Gohil
My Role


Secondary Research
Demographic Research
Ideation
Product Design
Date


March 2021
3 days (Concept Generation)
5 months (Research and Patent Viability)
We decided to focus on the Elderly, more specifically Solo Agers / Elder Orphans, living in long term living care facilities without jobs or support systems. The pandemic had a severe impact on their physical and mental health.
We wanted to get the elderly to connect with each other. We wanted them to practice self care and participate in activities to stimulate their mental and physical well-being.
This interactive system is made to connect the elderly with each other. With safety in mind, the mat and plushy objects are designed for therapeutic exercises.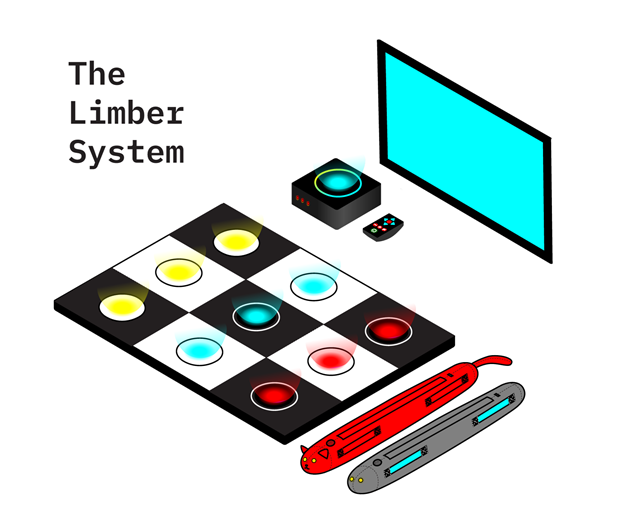 The Digital Component


The interface would be designed to help the elderly to workout. Single-Player Mode would allow for individual workouts while multi-player mode would allow them to work out and interact with each other. Additional characters and achievement reward systems could be introduced to create incentives to interact with each other.
---
Assessing Viability


By 2030, over 20% of the US population would consist of people over the age of 65. Since plenty of elderly people are playing video games for social interactions, the Limber System would have a prospective future market.
In just RI, if only 10% of elders over 65 buy this product, there would be 14000 users. In the entire US, it would be 55 million users.
10% is a reasonable figure as 44% of older adults are playing video games. With the increasingly aging population, the market exists for such a product.